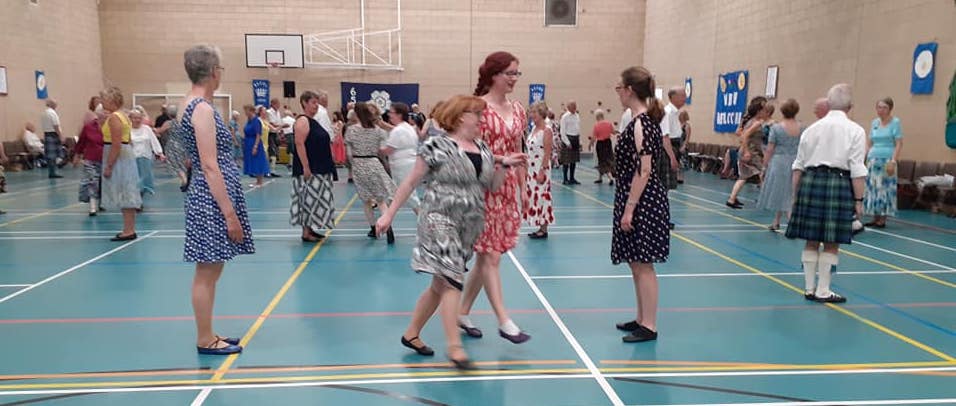 Welcome to Scottish Dancing Leeds
Come and join us - We have classes for everyone and a host of events throughout the year.
Scottish dancing is enjoyable, sociable and an excellent form of exercise for people of all ages.
Our Branch shop
The
Leeds Branch Shop
sells dance related CDs, Books and Shoes at a small profit to contribute to the funding of the above activities.
Wednesday beginners class (
details
)
Branch events
24th Nov 2023 - 26th Nov 2023
Malhamdale Weekend
Once again we invite you to join us on our weekend at Newfield Hall (BD23 4AA) in the Yorkshire Dales. The weekend, which is aimed at improvers and experienced dancers, will consist of classes on Saturday and Sunday mornings, taught by Alice Stainer. There will be social dancing on Friday and Saturday evenings. Accompaniment throughout will be by Phill Jones. Saturday afternoon will be free for walking, or visiting the local area.
Friday
Teacher: Alice Stainer
Musician: Phill Jones
Newfield Hall
Malham
Skipton
BD23 4AA
11th Dec 2023
Monday Afternoon Class Party
all welcome, £5 or Loyalty Card
13th Dec 2023
Wednesday Class Party
all welcome, £5 or Loyalty Card
Start: 7:30pm
Music: George Meikle
MC: Claire Johnson
28th Dec 2023
A Hogmanay Dance for the Centenary Year
Thursday
Start: 7:30pm
Music: Ian Slater
MC: Don Andrews
20th Jan 2024
a walk through dance
Start: 7:30pm
Music: Phill Jones
MC: Alan Horsfall
Burns Night Celebration
Thursday
Start: 7:00pm
17th Feb 2024
Musicians' Workshop
Musicians' Workshop
Start: 9:30am
Course Leader: Màrtainn Skene
17th Feb 2024
Musicians' Dance
Branch Dance with Màrtainn Skene and the Musicians
Start: 7:00pm
Music: Màrtainn Skene and the Big Band
MC: Don Andrews
Start: 7:30pm
Music: Robert Whitehead (duo)
13th Jul 2024
White Rose Festival
The Gateways School
Harewood
Leeds
LS17 9LE